Our next SRFC meeting is on February 22, 2018 at 8:30 in the Smoke Rise Village Inn.   ***...also please stop by and congratulate our newly elected President,  Johnny "Catfish" Roberts !!!***   
Ice fishing is here!!!
If you're planning on going ice fishing and are a member of the fishing club and need some shelter for a windy day on the ice, contact the club president about using the SRFC's ice fishing shelter. SRFC-President@Smokerisefishing.com  It works great!!  Before heading out onto the ice please familiarize yourself with proper ice safety.  Some tips are at this link https://www.takemefishing.org/ice-fishing/ice-fishing-basics/ice-fishing-safety/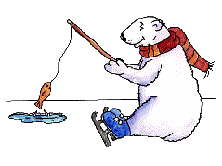 Looking to join the club?? New members can follow the "Member Application" menu link and you will be redirected after selecting "Submit" to pay the annual fee.   Returning members can use the "Membership Fee" link under the same menu option drop-down. 
Be sure to check out all our Fishing Links in the "Tackle Box".
Have some fishing or other outdoor gear to sell?  or maybe you're looking for some good quality used gear? Check out our new Classified Ad section in the Tackle Box!  Contact IT@smokerisefishing.com if you'd like to place a free ad (SRFC members only) 
If you are headed out fishing on the lake, don't forget to get your SR fishing license and your 2018 NJ State fishing license.
 7 SIGNS THAT YOU MIGHT NEED NEW FISHING GEAR!  Click here to find out
LOOK

 Please check out our Tips and Tricks in the Tackle Box.  
Think you're a skillful angler???  The New Jersey Division of Fish and Wildlife would like to reward your efforts if you land the biggest fish in your category.  All types of fish are eligible (both fresh and salt water) and there are adult and junior categories.  Click here to find out more information including prior year's winners.
   Take a peek at this link from our friends at TakeMeFishing.org.  It's got some great ideas for family fishing activities.  Click here  

Please remember to get your 2018 NJ State fishing license and Smoke Rise fishing permit before heading out to the lake.  See the Fishing Links section and look for "NJ Fishing License".  You can stop by the club office for the SR form, which is available now.
Our Mission:
To instill respect, appreciation and awareness of Smoke Rise natural resources while promoting the safe, ethical harvesting and protection of wild fish species.
The SRFC provides an environment to build friendships, engage in experiences, create traditions and develop lasting relationships with the community and nature through fishing. 
We meet the 4th Thursday 
of the month 
at 8:30 pm
at The Smoke Rise Village Inn
All residents are welcome!  
Last updated: about 2 weeks ago