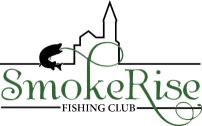 APPLICATION
Membership is limited to Smoke Rise residents in good standing and is $60.00 per person annually, which includes invitations to all fishing club events and tee-shirts to the Bass Master Classic and Catfish Classic events ($50.00 if you sign up after the Bass Master Classic).  Membership is required for person(s) 14 years and older.
Buy-Sell-Barter your fishing gear
Please Click the "Submit"  button to submit the form. You will be automatically redirected to our Store to pay your Membership Fee.
If you are not redirected please use the "SRFC Membership Fee" link under "Member Application" in the Main Navigation Bar above.  Or if that link is no good, please go to "Our Store" and you will find the Membership Fee option available there